In our division of about 20 people, my colleague "F" is likely, no make that highly likely, the only one who hasn't been to Bangkok (BKK). Almost everyone I know had been to this popular city in region known for their good food, shopping, body massages among other things… Having been there several times over the past decade, it's clearly one of my favourite travel destination. So I'd suggested to F if she would like to visit BKK and I don't mind visiting the city again (had been there in Apr this year), and she was totally game. That sounds like a plan which had happened last weekend.
Since it's her first time in BKK, I had offered to plan the itinerary. Heh, the privilege of being a "first-timer" otherwise she would have to join in the planning too, and you know I'll plan down by the hour and min. Super anal but it beats trying to figure where to go, what to do while over there and waste precious time. Ha… It's also an opportunity to check out certain places which I have not visited in a long time or not at all. For a first-timer, I'd thought there should, at least, be a temple visit. BKK is not all about shopping, eating and massages you know.
Anyway, we had taken only Fri off so it's a pretty short trip.
Day 1
We had arrived at our hotel slightly past noon. Could have been earlier, no thanks to the delay in departure at Changi Airport. Thankfully, our room was ready so without wasting much time, we had quickly drop our stuff and had a quick lunch at both "Ban Khun Mae" (one of my favourite Thai restaurants in Siam Square) and "Som Tam". Both are just next to our hotel.  Had posted about these 2 places before. I love the som tam (papaya salad) at "Som Tam" but this time round, whoever who's making it was very generous with the chilli. It was too spicy for me! Phew!!!
After lunch, we hopped on the BTS (Skytrain) and alight at Saphan Taksin station. The station is just next to the Sathorn Pier (Central Pier) where we plan to board the boat to visit Wat Pho (Temple of the Reclining Buddha).
Now, about the boat ride…… It took me a while to figure out the whole boat ride planning. Some 10 years ago, I had joined a travel group so the boat ride was all arranged for. But now, I had to plan on my own and the main website can be quite confusing. Thankfully, there are some great tips in Trip Advisor and other forum pages that help me understand which boat to take, the walking directions and all that.
So, here's the low-down…
Unless you are ok to fork out THB 150 (SGD 6) per pax or more for some meals or whatever entertainment on board in a more comfortable setting, I would suggest to board the orange flag boat. Ok, you may ask, what orange flag boat? How do you know it's orange?
There are several lines (or different coloured flags) in operation but the orange flag boat operates daily and stops at most of the common piers such as the Grand Palace, Wat Pho and others. There will be an orange flag stuck on to the boat. Some parts of the boat might be painted orange as well. Think it's quite hard to miss a colour like orange so be on the alert at Sathorn pier.
The ticket costs THB 15 (SGD 0.60) per pax one-way. This boat is mainly used as a form of public transportation so at certain times of the day, it can get really packed. Literally packed like sardines.
If you are still not sure where to queue to board the orange boat, just ask somebody and mention "orange boat". We were directed to a make-shift ticket counter, which was just a table, to buy the ticket before boarding. The ticket is THB 15 per pax flat. So if someone tries to charge you anything more than that, walk away and find the right counter or buy the ticket on board.
The human traffic gets progressively crowded as more people had board the boat along the way. Be sure to look out for the signboard at each pier with the pier number clearly stated. For Wat Pho, we had to alight at Tha Tien Pier no. 8. For certain key attractions, I think the ticket person on the boat may shout out the name of the attraction. Well, the one on our boat did. When approaching your destination, it's best to move to the back of the boat for easier and faster disembarkment especially when the boat is packed. I would suggest avoid going right to the front of the boat if you are gonna alight after a few stops.
Tha Tien pier is next to a market so we had to go through a narrow pathway with shops selling souvenirs along the sides. I supposed there's a fish market somewhere cos the fishy smell in the air is quite strong. Or it could just be from the tons of stalls selling dried fish, shrimps and cuttlefish.
Watch out for traffic at the inter-section and after weaving through these vehicles, we had reached Wat Pho. We've got about an hour plus before the temple closes at 6pm.
Founded in 1781, Wat Pho is one of the largest and oldest temples in Bangkok. It is also the birthplace of traditional Thai massages. For those who love these massages, you should try them at the spa in the temple.
The entrance fee is THB 100 per pax for foreigners. Think locals enter for free. The ticket comes with a small bottle of water. Hey, there's even wifi available.
The first stop was the temple of the magnificent reclining Buddha. The Buddha is 46 m long and covered in gold leaf. F and I were totally in awe. The Buddha's feet along measures at 5m long with intricate carvings in mother-of-pearl.
By the way, do wear something that can cover up your legs, at least till the knees, and nothing too revealing or low-cut, or else you have to drape this awfully bright lime-green jacket before entering the temple. God knows how many sweaty bodies had been in those jackets. If you need to erm, flaunt your assets outside of the temple, it might be a good idea to bring a sheer shawl, that you can stash in your bag, as a make-shift wrap-around skirt just before entering the temple.
We had also checked out the rest of Wat Pho. Had read from Wikipedia that there are 91 chedis (stupas), 4 viharas (halls) and a central shrine. 71 chedis had contained the ashes of the royal family while the large ones contain the ashes of Buddha.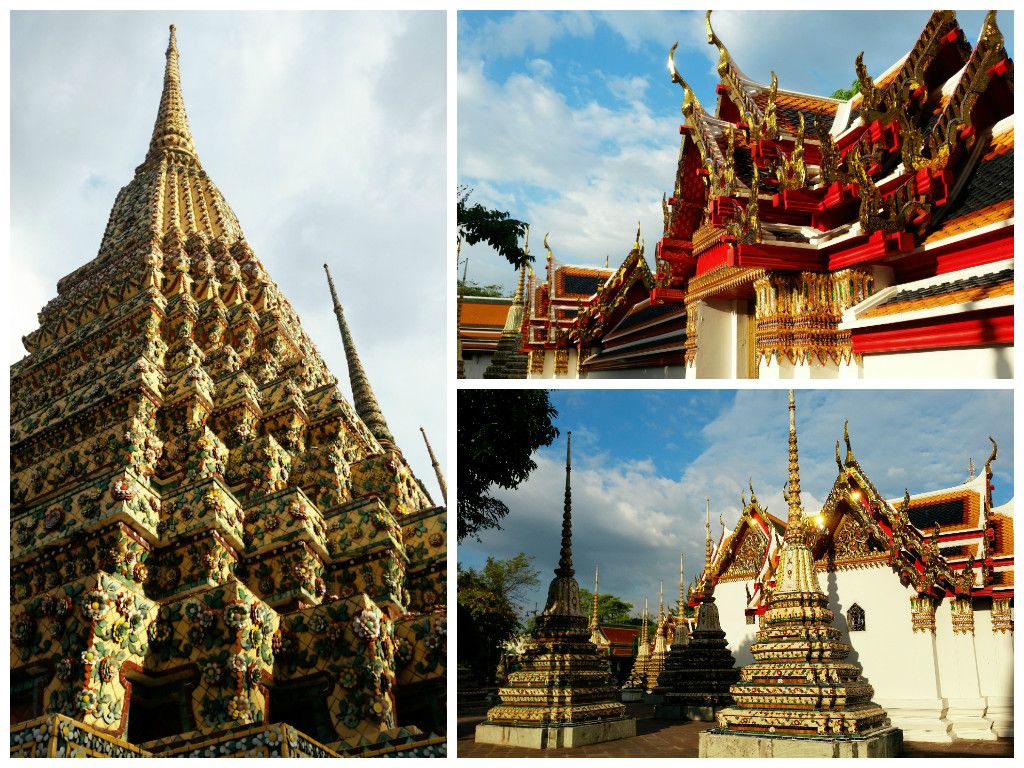 Something funny had happened when we were sitting in front of the Buddha in one of the viharas, enjoying the peace and being in a reflective mood. Suddenly, a loud "pooooot" disrupted the serenity of the ambience.
OMG… This caucasian guy next to us had farted. Within split seconds, we had got our butts off and fled from the hall. I can't even bear to turn around and look at him. Maybe he'll be like, what's the big deal bitches or who knows, feel embarrassed. Either way, we didn't want to know. I know he can't stop his fart but it's just so loud and sudden that it's kinda amusing. Anyway, we are not going to hang around to decipher if the putrid gaseous concoction is a blend of Tom Yam Goong and Pad Thai. LOL…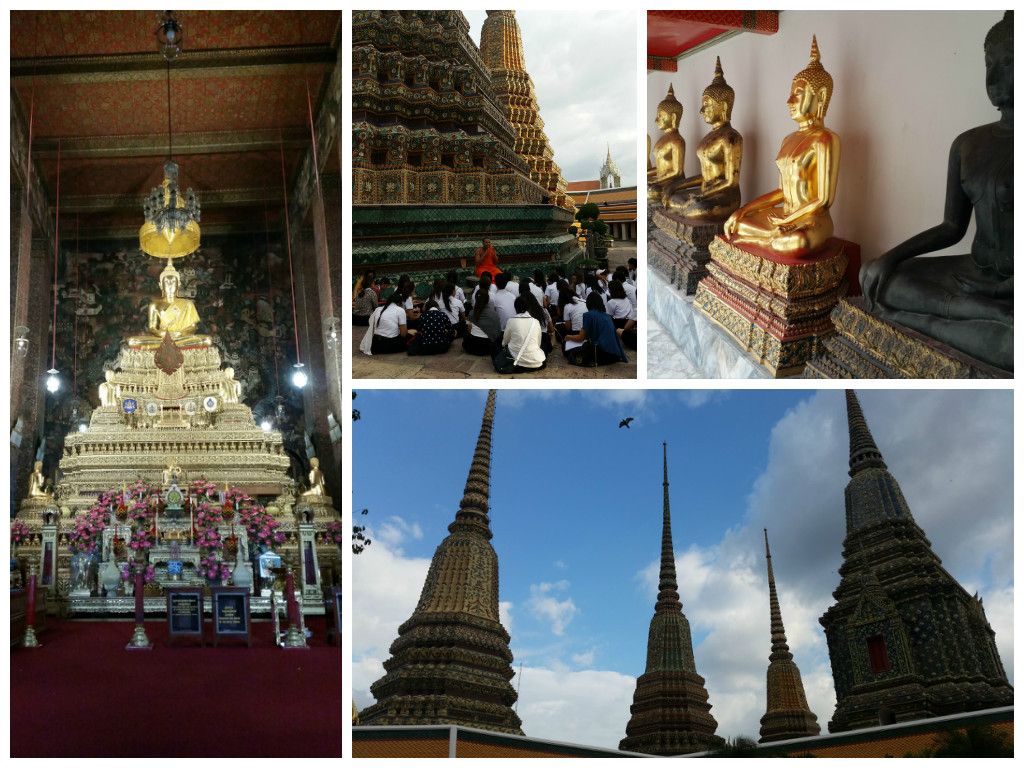 After about an hour, it's time to get on the boat and head back to Siam Square. It can get very messy at the pier. There's also another queue for a ferry service, at THB 3 per pax, across the river to Wat Arun. Wat Arun would close at 5pm so we had skipped that visit.
There are queue markings on the ground to differentiate the arriving and departing traffic but in a packed human traffic situation, the segregation might not be that clear. The space near the pier is rather tight and the badly circulated air reeked of something between fishiness, perspiration and pee. I can barely breathe in that congested area. It was so crowded that we'd just claw our way to the open-air area of the pier.
There is someone deployed at the pier to direct traffic. Again, if unsure, just mention "Sathorn" to this person and if she is kind enough and not too distracted, she will alert you when the boat arrives. Remember, take the orange boat. For the return trip, you can buy the ticket on the boat.
The return boat was freaking packed! Really hate to be squashed in such crowd but no choice if we wanna take the boat back to the BTS station. And we want to get back as soon as possible!
When we'd reached Siam Station, we were not feeling very hungry but in dire need of a cool drink and some air-con. Had to show F the very cutely decorated "Mr Jones Orphanage" cafe. Don't know why it was called "orphanage". Sounds kinda sad? For the teddy bears, I guess.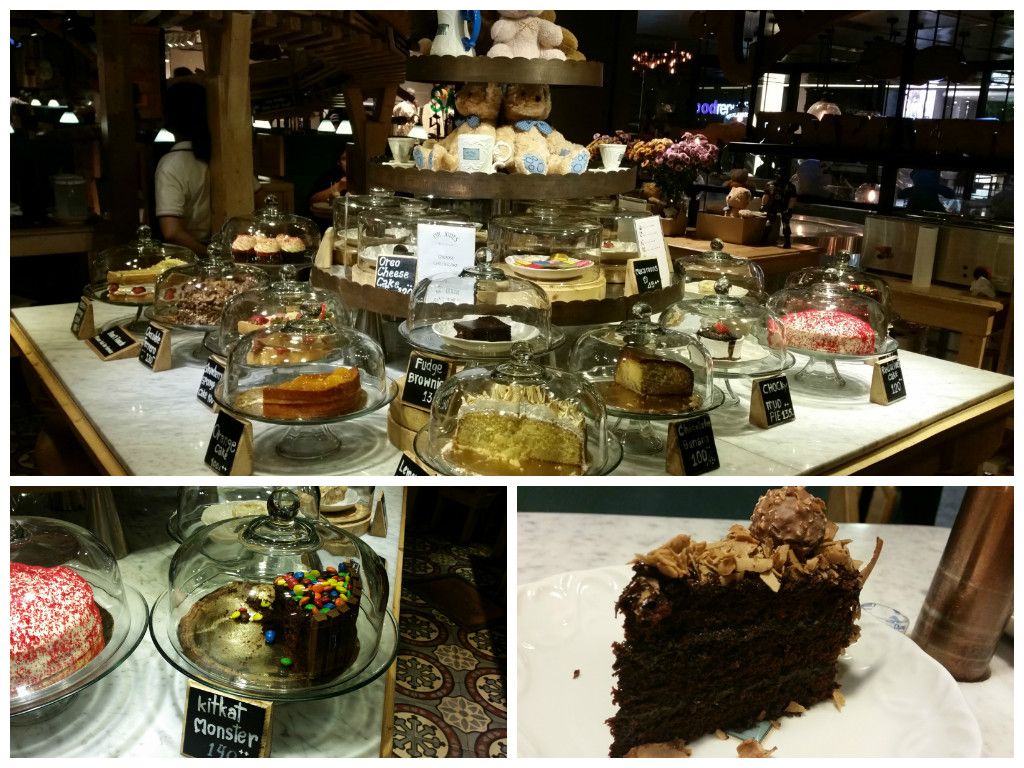 All the cakes look really amazing but we had settled for the Rocher cake. The cake was reasonably moist but not as rich as it looked, which is ok. Dry chocolate cakes are the worst. Unfortunately, the service wasn't that responsive. Guess the high backs of the chairs, made to look like seats in a railway dining carriage, did little to give them visibility over the customers. Most of them were just happy standing near the main entrance and chatting. We had to wave our arms like crazy chimpanzees just to get their attention. Tsk tsk…
We were still not very hungry yet so had decided to feast our eyes on the very pretty desserts at the basement of Siam Paragon. They all look so gooood!!
For our first day, we'd decided not to tire ourselves with too much travelling around and pretty much stick to the Siam Square area. The next day would be a long one cos it's the only full day we had. Hence, we had spent the rest of the evening checking out the night market along the stretch opposite Siam Paragon and Siam Center, all the way to MBK.
Oh but before that, we went for a Thai massage at "Issey", opposite our hotel. It's THB 300 (SGD 12) for an hour of full body massage. That's a good price. In S'pore, a massage like this would be triple the price or even more, if they throw in some fancy body oil.
The massage was good. Though I am not too fond of massages but once in a while, I don't mind some kneading to loosen those tense muscles. My masseuse had really worked my body like a piece of dough. The part that always made me nervous was at the last bit where she would twist my body to each side till there's a "crack" sound. I'd always fear my lower spine would be twisted out of position or something.
At the night market, we had picked up quite a few good buys that are around THB 200 (SGD 8) per piece. Not all the clothes suit me. Either the cutting is too small and best suited for petite frames or the designs are too cutesy. Sigh… But I did manage to get meself a black chiffon-like blouse and a cute (oh I can't resist this one) top with lots of sausage dog prints on it.
Had settled dinner at some nearby eatery that opened till late. No biggie about the food. In fact, it wasn't that good, so I shall not post anything about it.
Day 2
Had a quick brunch at "Ros'ni" at Siam Paragon basement. Tried the Khao Soi which is a Northern Thailand dish consists of egg noodles in chicken curry topped with crispy (deep-fried) egg noodles. Interesting. The curry was very rich. We also tried the Pad Thai. It's decent. If we have more time, we would have tried the Pad Thai at Sukhumvit Soi 38 on one of the nights, where there is a stall which is the winner of some Thai cooking contest for Pad Thai. Ah, another time then.
Off to Chatuchak Market!
The last time I was at Chatuchak, the heat from the sun had almost fried me. I gave up after around an hour and had to leave the place for some cool air-con. I remembered feeling dizzy and parched. So weak, tsk tsk…
This time, I tried to brace myself and try to cover as much as I can. It would be a waste to travel all the way there and leave within minutes. Who knows there are some hidden gems in the market which I had never checked out before.
Had bought a Singha beer singlet for the hubby, some pasminah shawls and a bag with embroidered flowers in brightly colours. Some things never change. I am still a sucker for embroidered stuff.
Had bargained a little for these items. Not much discount anyways. A dollar off here and some cents there. Over the years, I'd lost interest in relentless bargaining. I used to have more energy for that. Of course, I love a good deal but over a few cents? It's really not worth my effort. Definitely not in this mad heat!
Not sure if there's some code of ethics among the sellers here but the prices and even the extent of the discount do not differ much from each other. One seller had even confidently suggest we check with other sellers and likely, it would be the same price. Whether she's telling the truth or calling our bluff, it doesn't matter cos we want to get those items anyway and the cost is frankly not that much.
After an hour and just as I was about to give up and suggest we moved on to our next destination, we had somehow walked into this part of the market that sells ornamental fish and animals. Think we had tried to get to JJ Mall, which we did, but by the time we had reached there, we were ready to leave for the next place. Gotta stick to the pre-planned itinerary. If we have more time, we might check out JJ Mall.
It's not just pets like dogs, cats and bunnies but there are also other animals like chickens, ducks and their young, turkeys and hedgehogs, owls (seriously?) and reptiles (eeww) sold in this part of the market. The dogs are very cute and many are playful and active but some of them are in tiny cages or enclosures and looked so miserable. Other than the miserable conditions and from the way they'd handled the animals, I don't think these sellers care much about their welfare. Same goes for the other animals.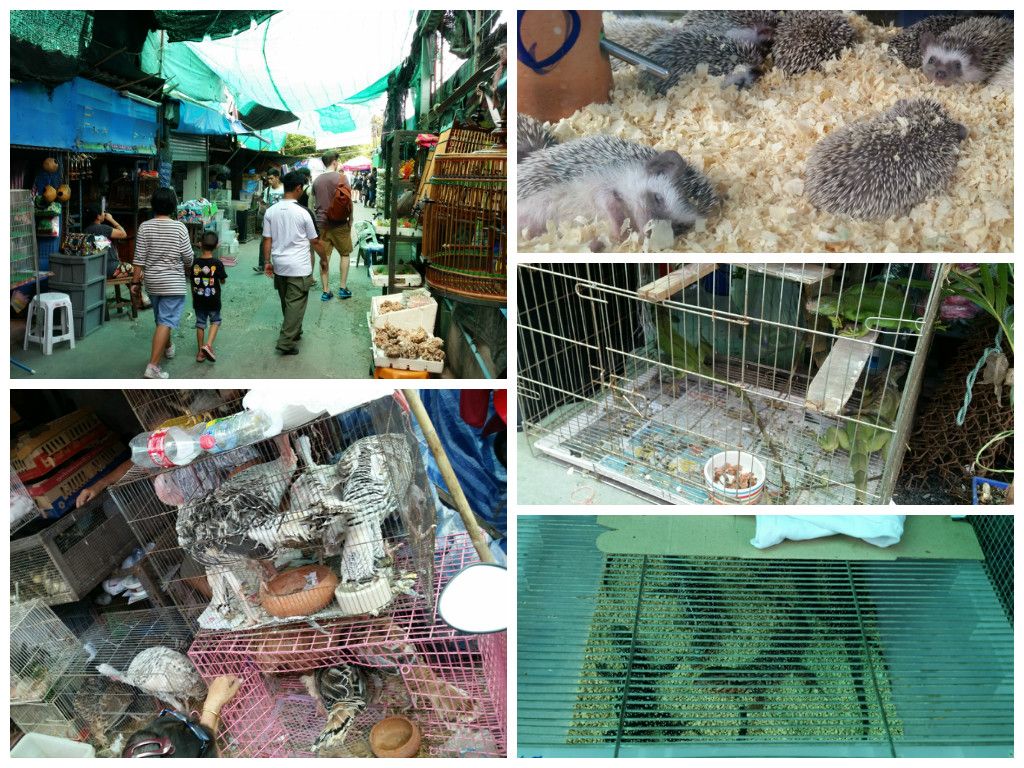 Aiyo… The poor owl (below image, bottom left) looked half-dead lah! It's just lying there with both eyes shut and sometimes, an eye opened. Anyway, owls are nocturnal creatures. Obviously, this fellow is not in a cheery mood. How to zzz in this heat and so many people crowding over him.
You know you're at the "fish market" section by the numerous stalls and shops selling fish mostly stored in clear plastic bags and tanks. Many of these bags can do with more water. Some of them are so shallow that the water level had just skimmed the surface of the fish' dorsal fins. It's like the water-equivalent of those tiny cages which the animals are stored.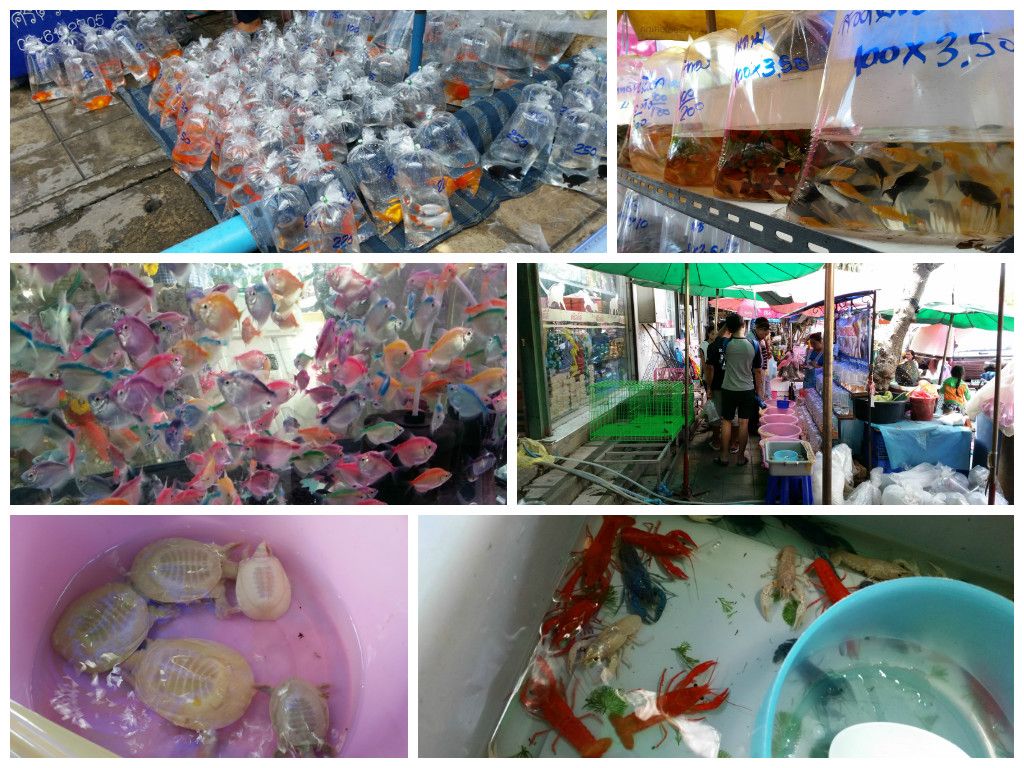 Near the fish market are some food stalls and mobile carts. While some of the food look delicious, except for the fried insects and maggots (super gross!!), I yearned for a bottle of ice-cold water or soda instead. We had walked past this shop selling some decorative water feature and I wished I can dunk my head in the water. How can anyone enjoy a hot bowl of say, Tom Yam, in such hot weather?!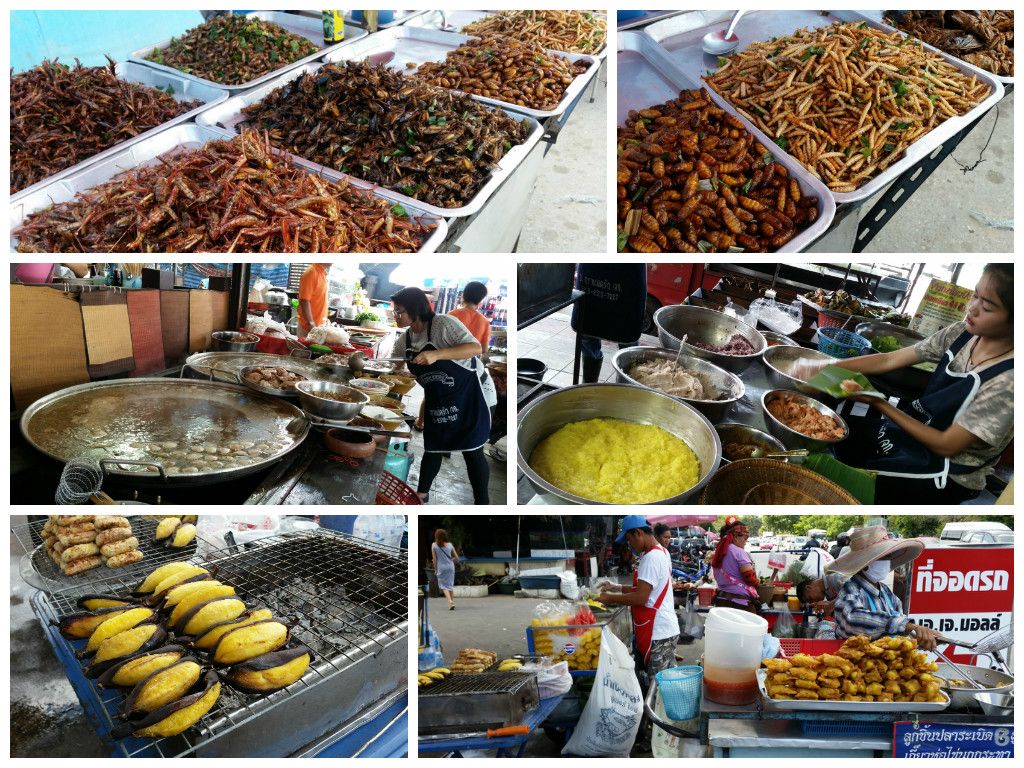 Chatuchak Market is like a labyrinth. I am always lost at Chatuchak and would just walk along, and hoping that I would find an exit out to the BTS or MRT station. That's why there are tips online that once you found something you like, just get it and don't bother to go back to the same shop again cos you might not be able to find it.
The same had happened to us this time round. We decided to move on but oh no, how do we get out?? Aarrggh!! Rather than get more lost and confused amidst the numerous narrow lanes in the market, we chose to walk along the parameters of the market and lo and behold, we reached Kamphaeng Phet MRT station. You have no idea how happy we were.
Another 2 stops later, we had reached Phahon Yothin station where Union Mall is just next to it. Union Mall is like a mini mall-version of Chatuchak without the animals and household stuff. It might be smaller than Platinum Mall, which we had passed by in a cab but didn't manage to visit. Well, save it for next time.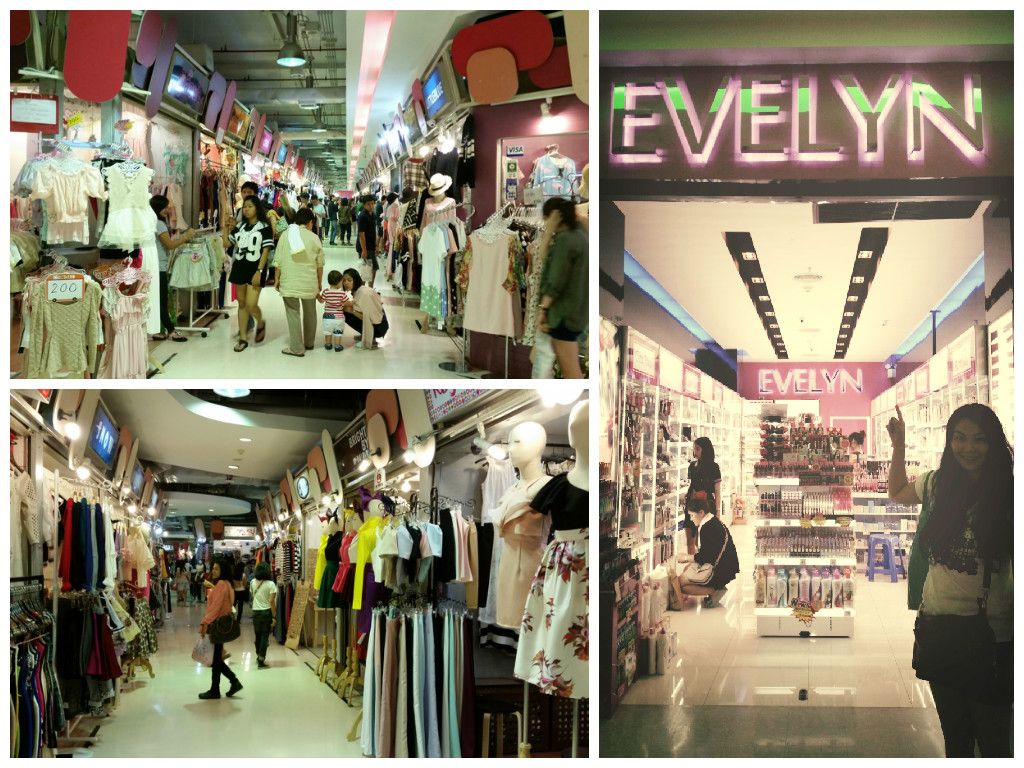 Ha, had found my shop! :)
After around an hour plus at Union Mall, it's time for some Thai food! Before our trip, I had searched online for the best Tom Yam Goong and several websites had recommended "P'Aor" (68/51, Soi Phetchaburi 5, Thung Phaya Thai, Khet Ratchathewi, Bangkok, 10400).
After alighting at Ratchathewi station, at the gantry, turn left and then right again which would take you down a flight of stairs leading to an inter-section. Cross the road, turn left and then walk all the way till you reached Phetchaburi Soi 5. There would be other food stalls and eateries along this street.
At some point, just after a small shop selling fruits, there is another lane that cuts across the main street. This is where you turned right and "P'Aor" is on the left along this smaller lane. The name of the shop is not clearly indicated in front but there would be a cartoon image of a lady in a low-cut top. Presumably the lady boss in her younger days? Hmm.
Since it's just the 2 of us and we want to save some room for dinner, so we had ordered only the Tom Yam Goon (mixed seafood) with very thin kway teow (flat rice noodles) and a "special sauce" prawn rice (dunno the actual name cos the menu is in Thai but the wait staff said something about special sauce and had recommended this dish so let's just try lor). Both dishes are around THB 60 each (SGD 2.30).
Surprisingly, the Tom Yam Goong is not spicy at all. I was expecting to drench my tongue in lava. In fact, it's only mildly spicy and sweet. I supposed the sweetness is partly contributed by the prawns used to make the stock. Since I can't take too much spice, I like this version of Tom Yam Goong but it would be great if there's more broth.
The "special sauce" rice dish is largely scrambled eggs in some savoury and slightly sweet gravy with a hint of prawns. It's nice but likewise, would be good if there is more gravy which complement the plain white rice really well.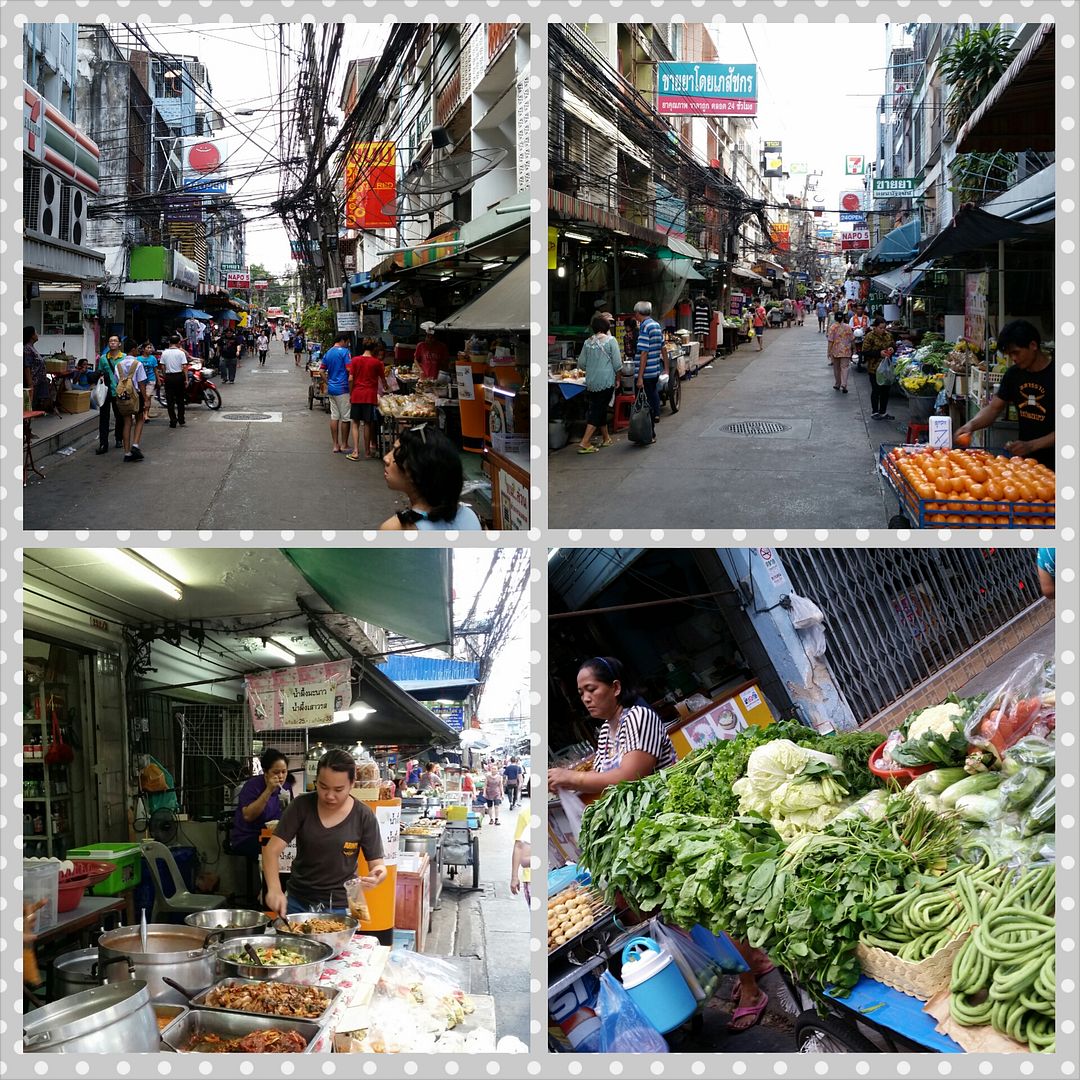 After our tea break, we took a stroll along the Soi 5 to check out the other food stalls and eateries. Judging from the rather rustic surroundings and open display of the food items (most of them are exposed), it would be likely that these places are where the locals would frequently dine or even pack their meals back. Don't think the tourists in those tour groups would make a stop here to dine. I am also uncertain if I can stomach these food that can been exposed for, what, several hours (?) and patronised by flies.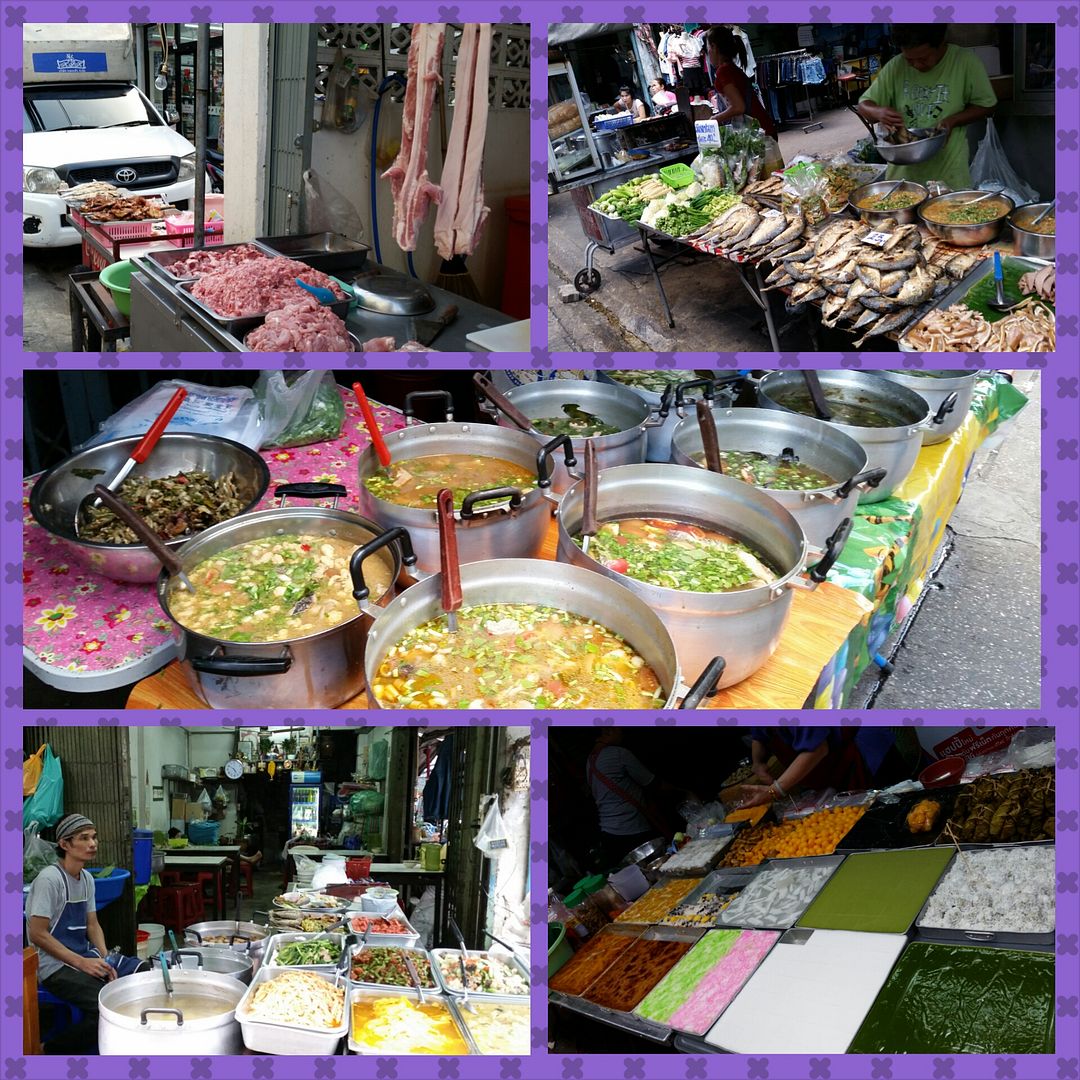 Wah! Even the designs of the cakes are old-school. A pleasant memory of the traditional birthday cakes in the 70s and 80s. And what a contrast from those cakes at Siam Paragon and the city malls.
Oooh… We had tried these little puffs filled with coconut cream and corn. Other than corn, you can also choose taro (yam), onions or pumpkin. For THB 20 (SGD 0.80), you get 8 pieces. I am not very fond of coconut cream but this is not too sweet and rich for me, and goes really well with the egg-based crispy shells that contained the cream. Best consumed when warm.
Another tip. Do separate the shells if you prefer not to pop the whole thing in your mouth. I tried to bite into it and ended up squirting some cream onto the side of my face and fingers. Well done. Looking at the little mess I made on me, the stall owner had quickly pass me some tissues, probably rolling his eyes at my clumsiness. LOL!
Had took a short break at our hotel room and also to dump our shopping stash just before we head for Chinatown.
By 7pm onwards, the traffic is very congested. It's quite complicated to get to Chinatown by train from Siam Station cos we'd to change to a different line via the BTS and then to the MRT plus some walking from the nearest BTS station which I am not too clear on the route.
I give up lah, let's just take a cab. Do expect some cabs to charge a flat rate instead of turning on the meter. They will tell you things like, traffic jam, very far and all sort of nonsense. 2 cabs we had stopped had quoted us THB 200 to get fo Chinatown from our hotel. In the end, we had settled for THB 150 (SGD 6.00).
There are many food places/stalls and restaurants at Chinatown but we had decided to go for the seafood. There are 2 popular and terribly crowded seafood stalls located directly opposite each other. Obviously, competition is fierce. The one which we plan to visit is called "T&K" but it's just crazy packed. Don't think we can get a table that soon. On the contrary, "Lek & Rat" is able to show you to a table almost instantly. They will tell you that their food is "same same" as "T&K". Well, of course, they have to say that. I am surprised they didn't say theirs is better cos that's erm, overselling.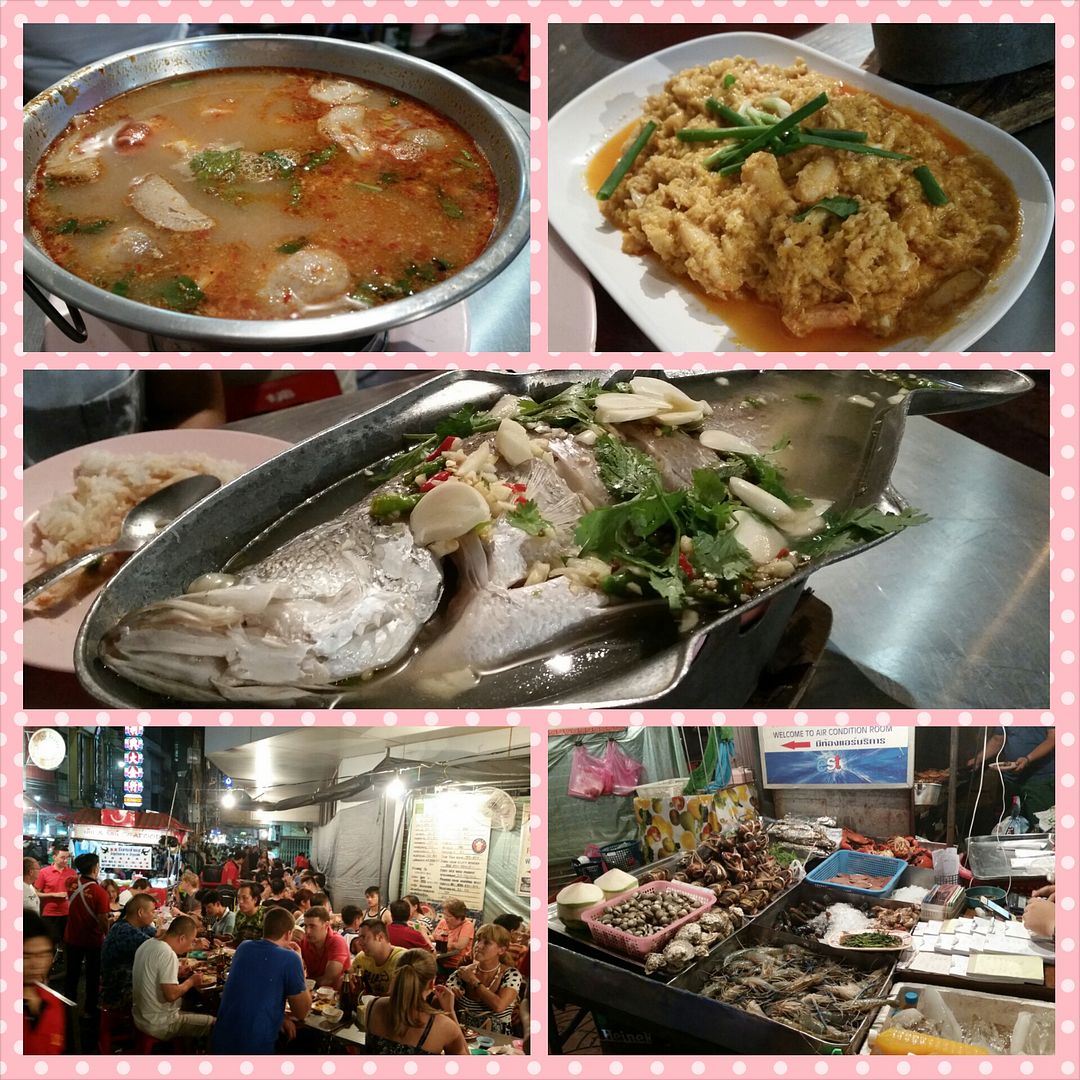 It doesn't matter lah. "Lek & Rat" is also good in their own right. We had ordered the Tom Yam Goong (just to try another version after the sweet and non-spicy version at P'Aor), the steamed sea bass in lime sauce and curry crab meat.
Oh my… The Tom Yam here is too fiery for me. Wooo!! Those who can take spice might like this version of Tom Yam instead of the mild and sweet version from P'Aor.
The steamed fish is my favourite dish. I'd generally prefer my fish steamed or grilled. Just some lime, garlic with a bit of fish sauce will suffice to bring out the freshness of the fish rather than complicate it with an overly rich or spicy sauce. The curry crab meat is very similar to the one at Somboon except that we had chosen the de-shelled crab flesh instead of the whole crab. Too cumbersome to pick out the flesh from the shells.
After a very satisfying dinner, we had strolled along Chinatown. Need to walk our meal off. It's interesting to see the array of food stalls but I am unable to stomach anymore food.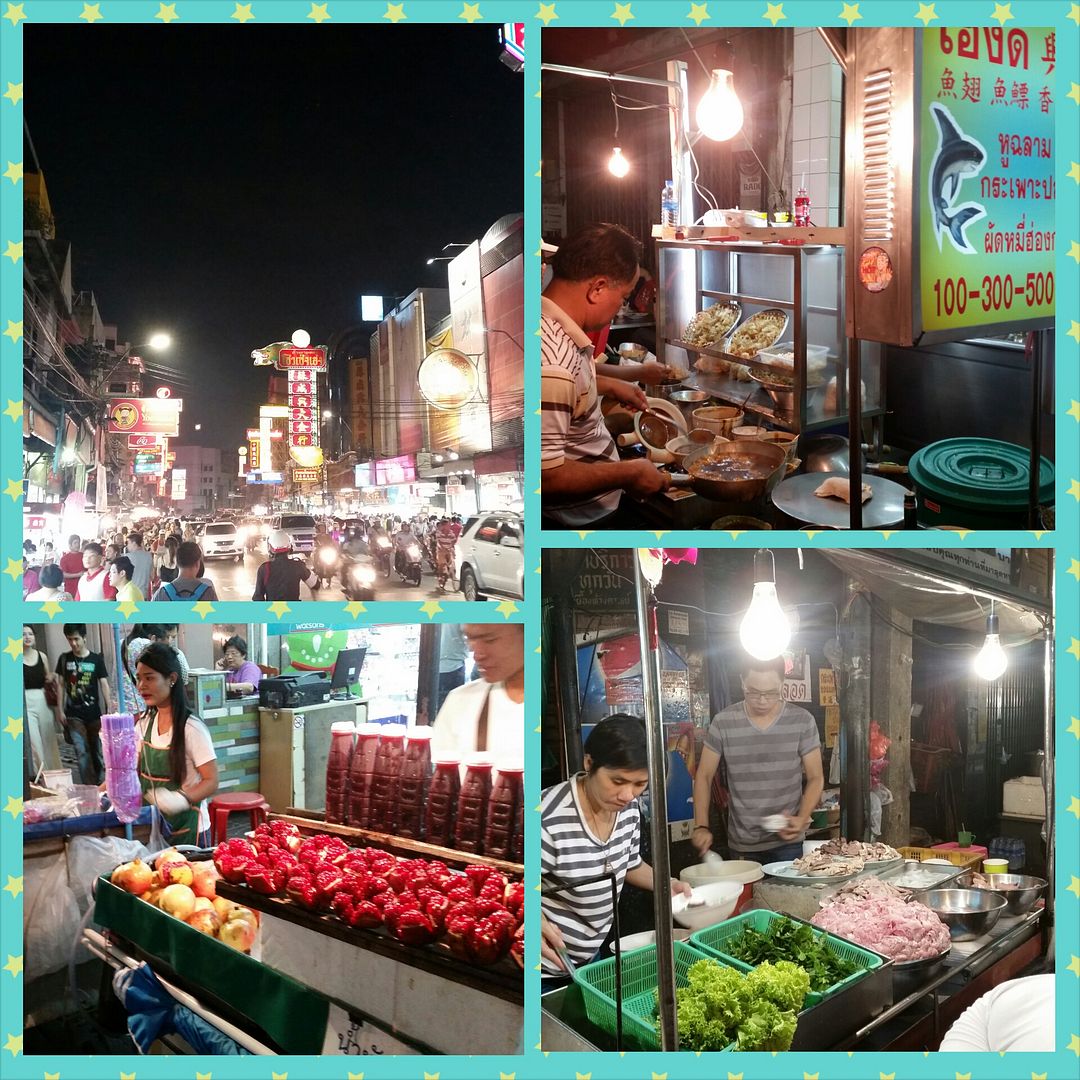 F bought a small bottle of pomegranate juice and like it. Said it's refreshing. I might try a bottle if I weren't so full. BURP!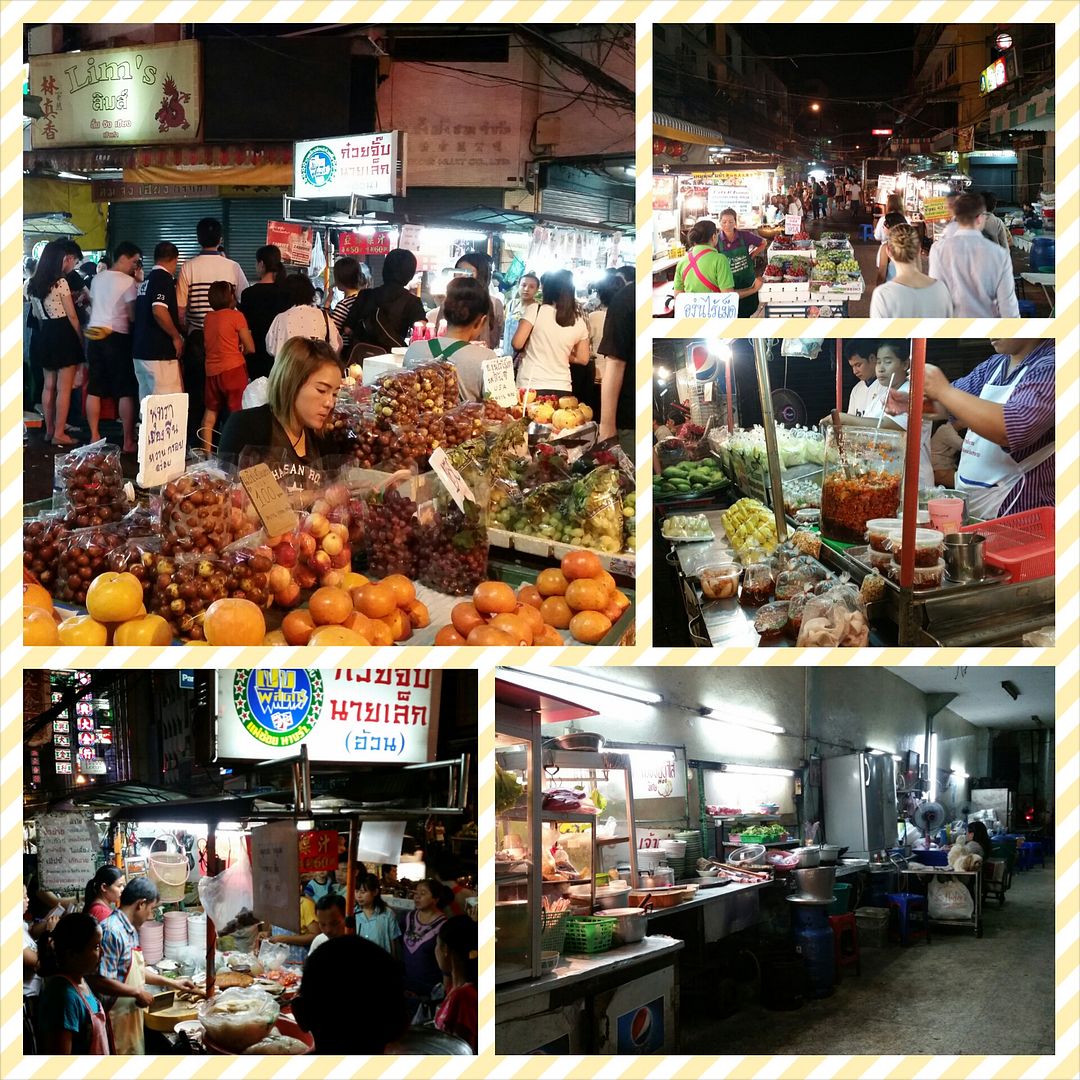 Then F mentioned that she would really like to try the mango sticky rice. Since it's still not too late, I had suggested to cab down to Sukhumvit Soi 38 where this is a popular mango sticky rice stall.
At that point, I can't recall the name of the street but I recalled it's next to Thong Lo BTS. So in my mind, the stall is in "Thong Lo". Again, some cabs chose to quote a flat fee- THB 200. "Thong Lo very far!", said the driver of the first cab we had flagged down. Luckily, the next cab had agreed to turn on the meter.
It's actually quite a distance away. For a moment, I thought the cabbie is taking us round and round. When we had reached Thong Lo, I said "Soi 38" and the cabbie said, "There is no 38 in Thong Lo." Oh shit!! Are we in the wrong place??? Finally, we told him to go to the BTS which luckily he understood and took us there.
I am still pretty full but can take a little of the mango. The sticky rice and coconut cream are too rich and sweet for me. As you can tell, I have a rather mild palate. Nothing too sweet, salty and spicy for me.
We head back to the hotel after that, all sweaty and greasy. A hot bath and lying in bed is what we need to end the day. Ahhh…
Day 3
Our flight is at 2.40pm and if we need to get to the airport by 12.40pm, we can't venture too far off from the hotel. So this is the best time to visit the Erawan. I'd always try to visit this shrine whenever I'm in BKK.
After Erawan, we had grabbed some lunch at "Kalpapruek" at Central World. They used to have a branch at Siam Paragon but had closed recently. No wonder I can't find it yesterday.
We had ordered the fried rice with dried shrimp sauce, curry fishcakes and pandan chicken. Typical Thai appetisers. The rice is just alright, a little salty actually. The rest of the dishes are not bad though the fishcakes are a tad too spicy for me. Tsk… I can't really take spice but yet I'd still torture my poor tongue and stomach. 变态 right?
After lunch, it's time to check-out and head for the airport. How fast the weekend had passed! Believe F would visit BKK again and maybe the rest of Thailand someday. I know I would! The hubby is already quite sore that I am savouring these good food without him. Wahahaha….