I did something for the first time just last Wed. It was actually unplanned. In fact, it didn't cross my mind until my colleague walked around asking if anyone wants to donate blood.
Every few months, there would be a blood donation drive held in the recreation centre at the airport. Usually, I would ignore on excuses of being busy and all that. More likely, I am freaked by the thought of a large needle stuck in me for a few minutes and draining my blood away. Anything to do with needles just sounds painful. Oh, and what if I faint? What if this and that… So you see, excuses excuses…
So when my colleague asked me today, I'd actually give some thought, that maybe I should try donating. It is for a good cause. You never know when emergency hits and someone is in need of the same blood type as me. So I agreed. Together with 3 other colleagues, we walked towards the venue of the blood donation drive.
First, we had to fill up a form full of questions ranging from whether we are using this drive as a way to find out if we have HIV to whether we have any health problems, taking any medication, in contact with anyone with Ebola and so on… In the registration list, there were around 30 people or so who were before us and all of had donated before. I am the only one who is a first-timer.
Next, we had our blood pressure taken. Holy moley! My blood pressure was much higher than usual. That's unusual and the medical assistant thinks it's because I am nervous. Guess so… Anyway, my blood pressure was normal just a month ago during my health screening so it's unlikely (?) that it would spurt that fast.
Lastly, the iron-level test. Mine was just nice at 12.5. Any lower means I can't donate, otherwise I run the risk of anemia or fainting from that amount of blood loss. I was given a stress ball to squeeze while they check for a visible vein. No problems there. Then, I was given a shot of anesthetic to numb that area. That bit is a little uncomfortable but it's only for a quick second.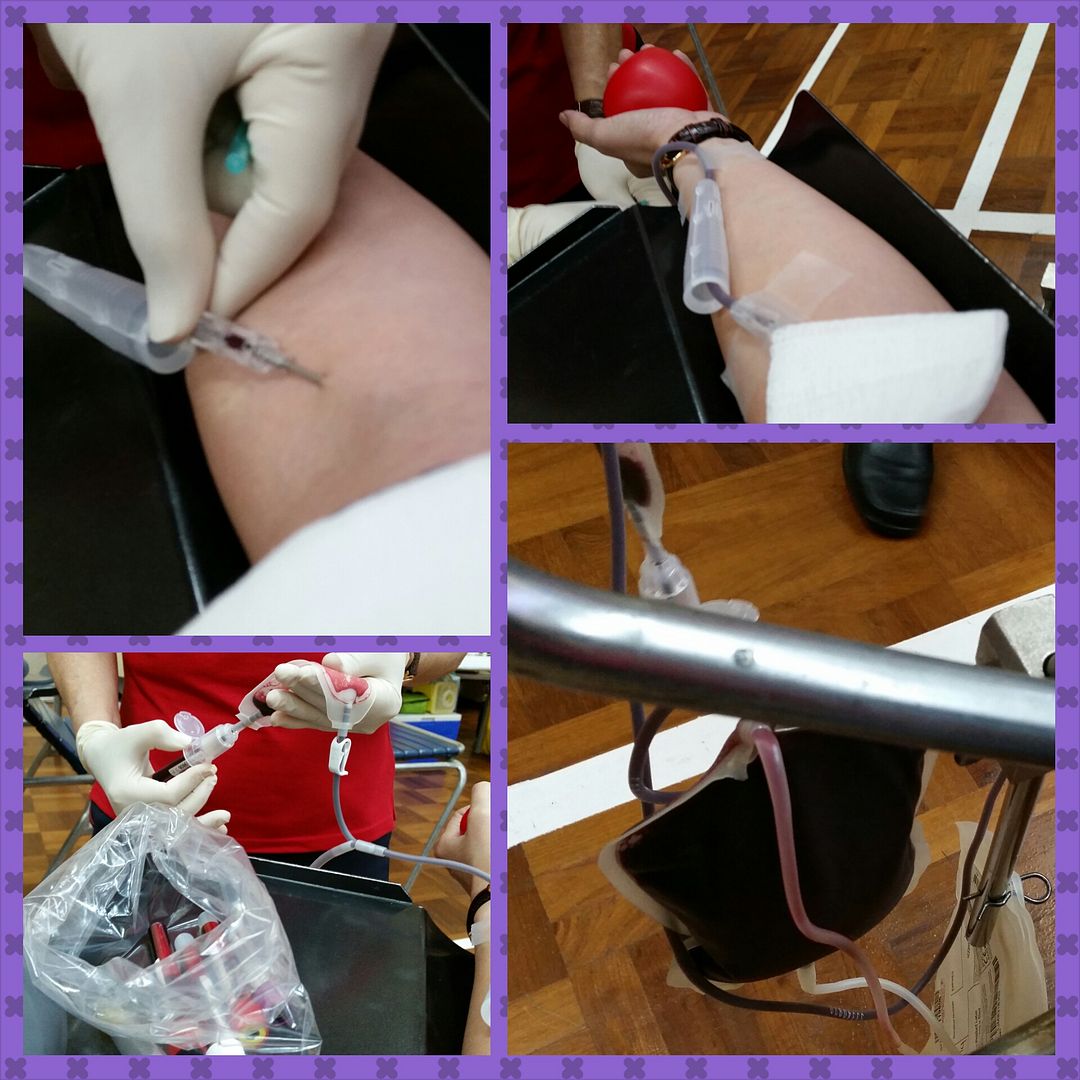 Finally, that thick needle was inserted. Most people I know avoided looking at this part of the process. While I don't look forward to injections (seriously, who does???), but there's something fascinating about watching a needle jabbed into my arm. Same goes for when blood samples were taken during the health screening. For this, they had to take multiple test-tubes of blood too. Obviously, they had to test the blood to make sure it is suitable.
Since I am not very small-size (heh), around 450ml was drawn on top of some 40-something ml into a smaller bag, so that's almost half a litre. My blood seemed to flow pretty fast and the bag was filled up in the next 10mins, I think. Thankfully, I felt fine after that.
And I got a bright yellow bandage with smiley faces… hahaha… Had to keep this on for 2 hours and made the nook of my elbow itched.. Urgh…
Am glad I went through it. It wasn't as scary as I'd thought. Think I would wanna donate again when the next blood donation drive comes along…