Having coffee (in my case, tea) and chats/laughs with good friends followed by a fulfilling dinner is a wonderful way to spend the Sunday. That is how I had spent the day. Had met the Liu sisters at one of our regular joints- Cedele at Serangoon Gardens- for some coffee/tea and generally chilling out. By 5pm, we'd flagged a cab to take us to "Curry & Curry" at Blk 203, Hougang Street 21, next to the NTUC Finest.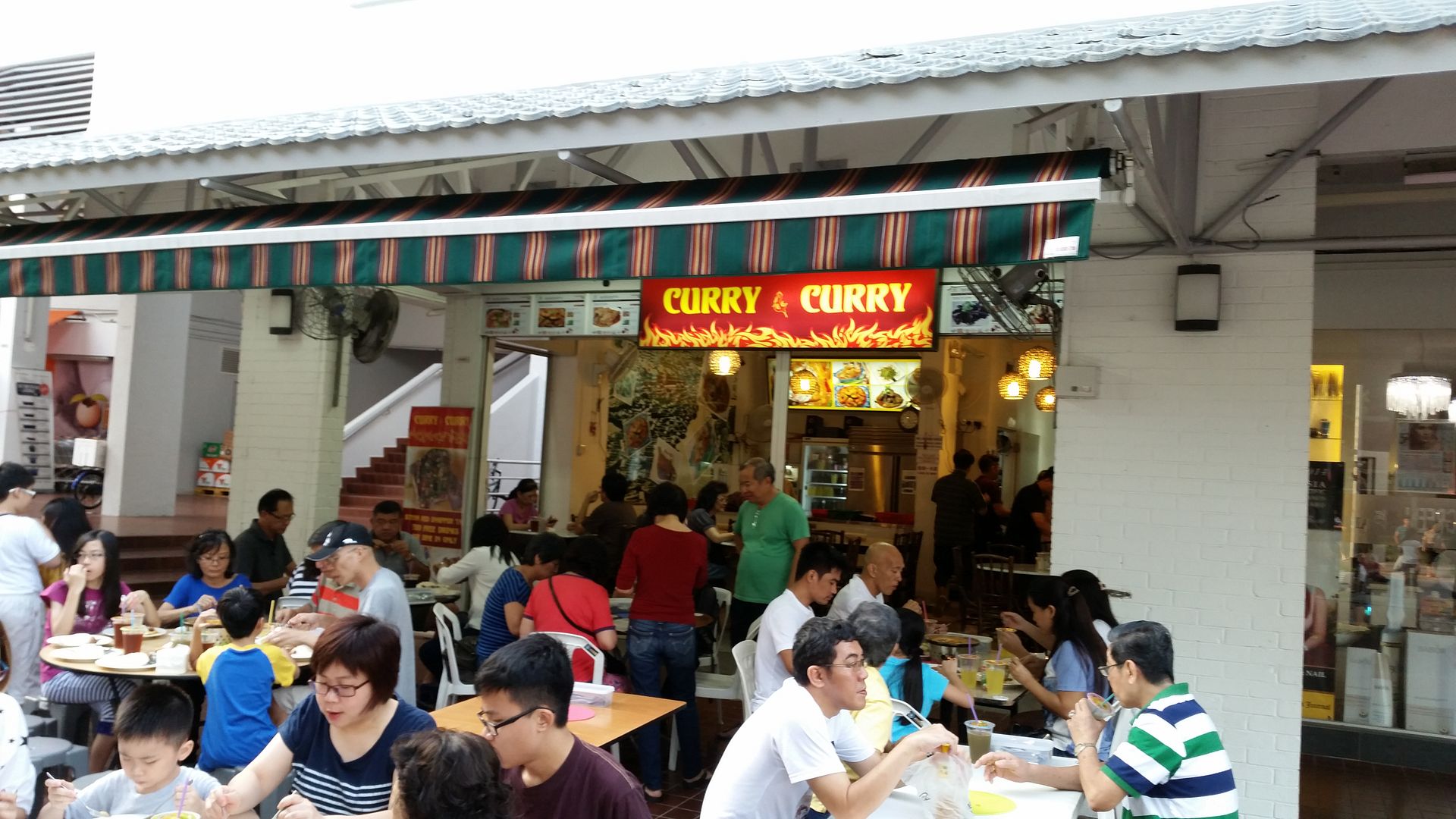 They had often passed by the little eatery but never get to try their signature fish head curry. By 6pm, especially on weekends, the eatery will be packed even though more tables are set up in the open space just outside the eatery. That is why we had beat the dinner crowd and reached the place before 5.30pm.
The curry fish head ($20) had arrived first. Piping hot and extremely aromatic. In fact, you can catch a whiff of the curry, even at a slight distance from the eatery. I don't eat fish head curry often but once in a while, I don't mind numbing my tongue and sweating it out over it. Best eaten with a few other folks.
This fish head curry is spicy but thankfully, not too spicy till my eyes started tearing, nose runny and tongue totally paralysed. It's a little tangy, probably with some assam? The fish is also fresh and we're happily drenching our rice with the curry. My face's a little red and the powerful fans inside (we had sat inside) had managed to kept me from sweating buckets. But can't say the same for the hubby who perspire easily. He looked like he'd just ran a marathon.
The other dishes we had ordered were the beef rendang ($6- didn't manage to take a picture of it), chicken rendang ($6), prawn paste chicken wings ($8) and stir-fried sweet potato leaves ($6). There are other dishes on the menu that look good but there are only 4 of us, and what we had ordered were just nice for us.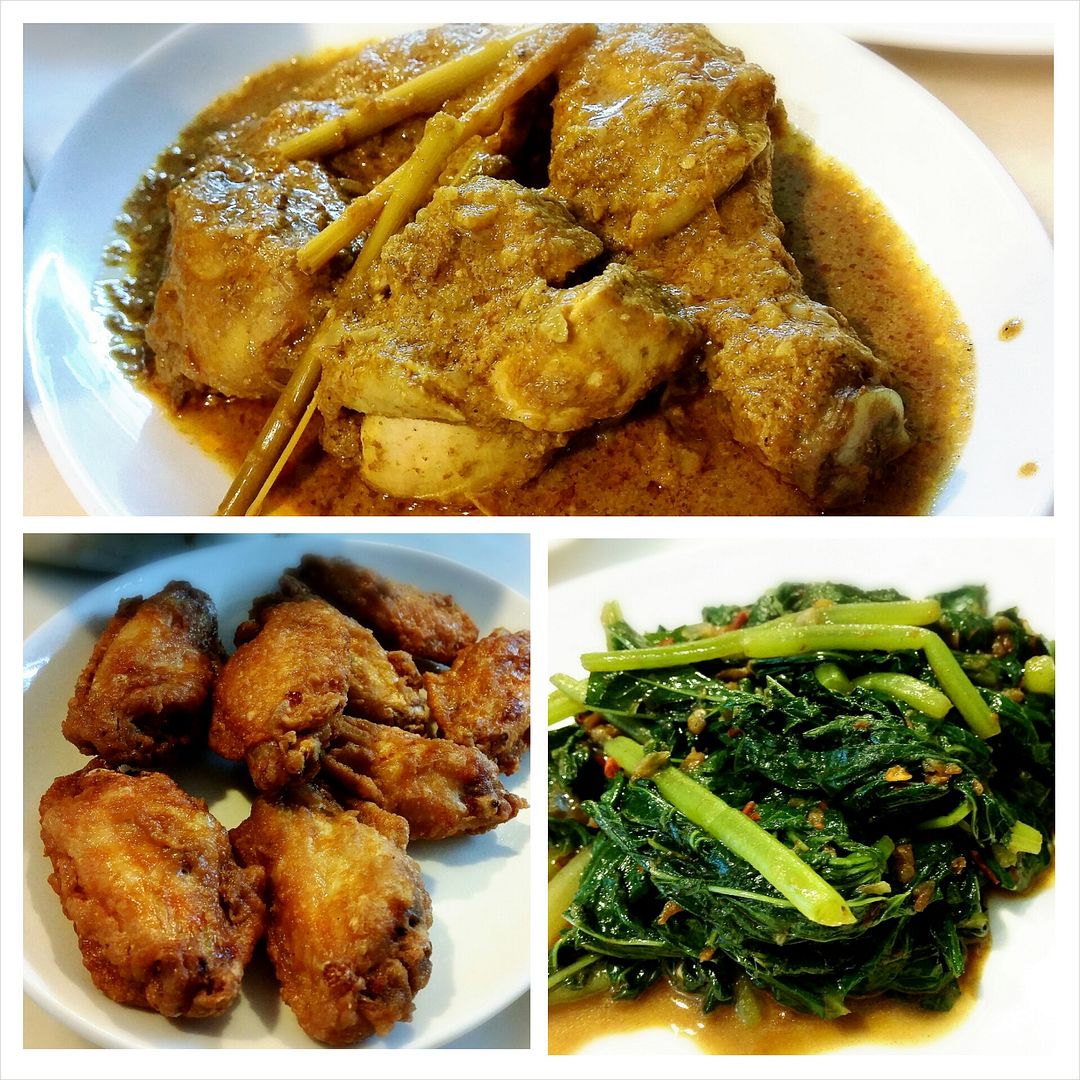 The chicken rendang is very rich and the thick and flavourful gravy is perfect for plain steamed rice. In order to appreciate the individual flavours of the 2 types of gravy- fish head curry and chicken rendang- I had to separate the rice on my plate into 2 portions. And I wiped out my rice, with no guilty feeling. Hahaha.
The prawn paste chicken wings are just alright for me. It's hard to find very delicious prawn paste chicken wings here. The ones from Old Chang Kee are decent though. The stir-fried sweet potato leaves are ok as well. While these dishes are good on their own, the star is still the fish head curry.
There are no GST and service charge, and the whole meal turned out to be less than $50 for 4 of us. Not bad for the quality of the food.
After a very satisfying dinner, we had cooled down at the NTUC next door. LOL! Had bought some groceries too.
The Liu sisters had went home after that but I chose to take a little stroll around. Though we hardly come down to this part of the island but this used to be very familiar grounds when I am in secondary school. Had very fond memories of hanging out here with my classmates either before school, if we were in the afternoon session, or vice versa. No smartphones (not even handphones) or social media, so it's really just chatting and walking around.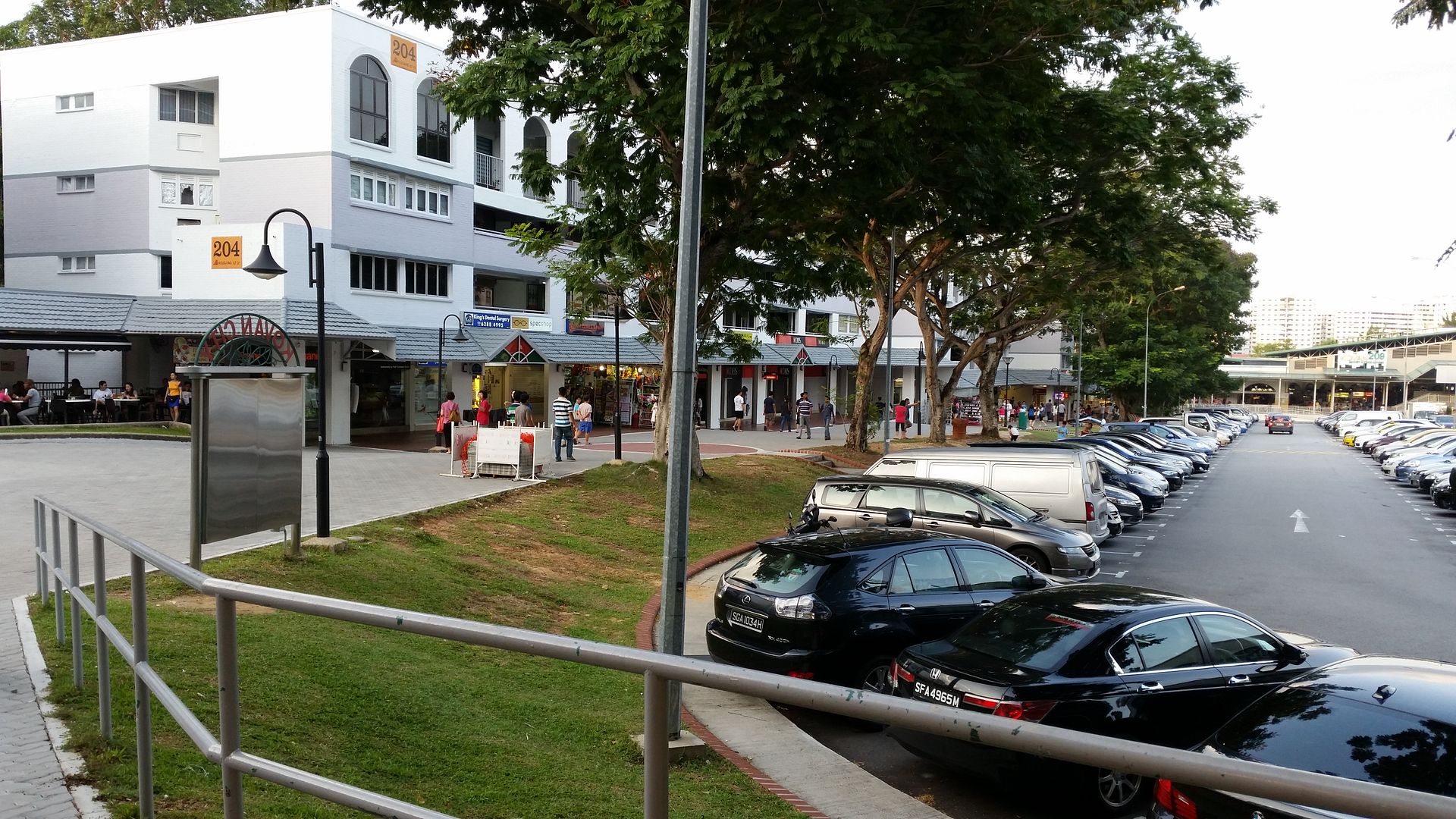 This place had changed much. The bus interchange is gone, even though the building structure still remains. Most of the shops are now smaller. Actually, it's the old unit size split into 2 smaller units so there seem to be more shops now. Oh man, suddenly I miss those simple and fun days. Heh, anyway, those days are long gone but the wonderful memories still remains. :)